直線移動ステージ(リニアステージ)、移動量50 mm
2" (50 mm) Travel, Dual Resolution Coarse/Fine Drive System
Supports 70 lbs Horizontal Load and 40 lbs Vertical Load
Large Mounting Surface with Numerous Mounting Features
LT1
LT101
LT102
LT3

Please Wait

1軸ステージLT1(/M)をベースプレートLT101(/M)に取り付ける方法
特長
移動量50 mm、粗動と微動のデュアル分解能システム
調整

粗調整:1.4 mm/回転
微調整: 0.25 mm/回転

許容荷重

最大水平許容荷重: 31 kg
最大垂直許容荷重: 18 kg

多様な取付けが可能な広い取付け面
モジュール設計により2軸および3軸ステージを素早く組み立て
LT1/MおよびLT3/Mの直線移動ステージ(リニアステージ)は、各軸の移動量が50 mmで、多数の取付け用M6タップ穴が付いた95 mm x 95 mmの取付け面があります。このステージは高い適応性を備えているため、さまざまな研究用途にお使いいただけます。粗動と微動のデュアル設計により、粗いピッチの親ネジ(18 TPI)による敏速な動きと、粗動アジャスタと直列の精密親ネジ(100 TPI)による高い分解能を持つ製品となっています。移動は、このアクチュエータの反対側に位置するロック用プレートを用いて固定することができます。
複数のステージLT1/Mと長さ1/4インチのキャップスクリュSH25S025を用いると、簡単にXY、XZ、YZ、XYZステージを構築できます。こちらのキャップスクリュを推奨するのは、多軸ステージの組み立てには短いネジが必要なためです。個別のステージを多軸システムに組み合わせることができる精密アライメント穴と位置決めピンが付いているので、確実に軸を垂直にすることができます。LT1(/M)をLT101(/M)に取付ける手順は右の動画をご覧ください。
また当社では角度偏差が小さく高耐荷重で、マイクロメータとアリ溝付きにより多軸構成が素早く構築可能な移動量50 mm、クロスローラーベアリング付きのステージをご用意しております。
| Item # | LT1, LT3 |
| --- | --- |
| Travela | 2.0" (50 mm) |
| Max Load Vertical | 40 lbs (18 kg) |
| Max Load Horizontal | 70 lbs (31 kg) |
| Orthogonality | <2 mrad |
| Angular Deviation | <2 mrad |
| Coarse Thread Pitch | 18 TPI |
| Fine Adjustment Range | 0.5" |
| Fine Adjustment Thread Pitch | 100 TPI |
移動は、このアクチュエータの反対側に位置するロック用プレートを用いて固定することができます。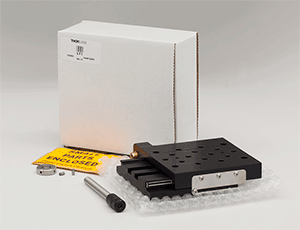 Click to Enlarge
LT1 Packaging

Smart Pack
Reduce Weight of Packaging
Increase Usage of Recyclable Materials
Improve Packing Integrity
Decrease Shipping Costs
Thorlabs' Smart Pack Initiative is aimed at minimizing waste while providing adequate protection for our products. By eliminating any unnecessary packaging, implementing design changes, and utilizing eco-friendly materials, this initiative seeks to reduce the environmental impact of our product packaging.
The updated LT1(/M) packaging primarily consists of recycled paper and cardboard and weighs 56.05% less than the original packaging. This weight change results in a 71.88 kg reduction in travel-based CO2 emissions per year, based on typical product sales.
As we move through our product line, we will indicate re-engineered, eco-friendly packaging with our Smart Pack logo, which can be seen above.
手動リニアステージ
手動の移動ステージとして、最大移動量が6 mm以下から50 mmまでのステージをご用意しています。ステージの多くはXY軸やXYZ軸などの多軸構成での注文が可能です。ファイバ結合用としては、多軸ステージのページをご覧ください。標準の手動ステージを用いるよりも精密な調整が可能です。直線移動ステージのほかにも、回転ステージ、ピッチ&ヨープラットフォームおよびゴニオメータもご用意しております。また、DCサーボモータ、ステッピングモータ、またはダイレクトドライブ技術を用いた電動移動ステージもご用意しています。
クロスローラーベアリングステージ
こちらの直線移動ステージの移動機構には、精密移動、高耐荷重、小角度偏差といった特性を有するクロスローラーベアリングが用いられています。LNRシリーズステージの本体はスチール製、LX、XRNおよびXRシリーズステージの本体はアルミニウム製です。
Crossed-Roller Bearing Stages
Product Family
LNR Series 25 mm Stages
LX Series
25 mm Stages
XRN Series 25 mm Stages
XR Series 25 mm Stages
XR Series 50 mm Stages
LNR Series 50 mm Stages
Click Photo
to Enlarge
Travel
25 mm (0.98")
25 mm (0.98")
25 mm (0.98")
25 mm (0.98")
50 mm (1.97")
50 mm (1.97")
Drive Type
Multiple
Micrometer
Micrometer
Micrometer
Micrometer
Multiple
Platform Size
2.34" x 2.36"
(59.4 mm x 60.0 mm)
2.56" x 2.56"
(65.0 mm x 65.0 mm)
2.00" x 3.35"
(50.7 mm x 85.0 mm)
2.98" x 4.33"
(75.7 mm x 110.0 mm)
2.98" x 5.51"
(75.7 mm x 140.0 mm)
3.94" x 3.94"
(100.0 mm x 100.0 mm)
Possible Axis
Configurations
X, XZ, XY, XYZ
X, XY, XZ, YZ, XYZ
X, XY, XYZ
X, XY, XYZ
X, XY, XYZ
X, XY, XYZ
Additional Details
Item #
LNR25D(/M),
LNR25M(/M)
LX10(/M),
LX20(/M),
LX20XZ(/M),
LX20YZ(/M),
LX30(/M)
XRN25P(/M),
XRN25C(/M),
XRN25P-K1(/M),
XRN25P-K2(/M)
XR25P(/M),
XR25C(/M),
XR25P-K1(/M),
XR25P-K2(/M)
XR50P(/M),
XR50C(/M)
LNR50DD(/M),
LNR50M(/M)
Resolution
Down to 0.025 mm/rev
(Dependent on Drive)
0.5 mm/rev
0.5 mm/rev
0.5 mm/rev
0.5 mm/rev
Down to 0.05 mm/rev
(Dependent on Drive)
Mounting Holes
1/4"-20 (M6), 7 Places
1/4"-20 (M6), 7 Places
1/4"-20 (M6), 17 Places
1/4"-20 (M6), 22 Places
1/4"-20 (M6), 26 Places
1/4"-20 (M6), 13 Places
Load Capacity
Horizontal: 44 lbs / 20 kg
Vertical: 17.6 lbs / 8 kg
Horizontal:
90 lbs / 41 kg
Vertical: 8.8 lbs / 4 kg
Horizontal: 170 lbs / 77.1 kg
Vertical: 8.8 lbs / 4.0 kg
Horizontal: 180 lbs / 81.9 kg
Vertical: 8.8 lbs / 4.0 kg
Horizontal:
180 lbs / 81.9 kg
Vertical: 8.8 lbs / 4.0 kg
Horizontal: 66 lbs / 30 kg
Vertical: 22 lbs / 10 kg
ボールベアリングステージ
こちらの移動ステージでは、精密移動と長寿命を実現するために、硬化スチール製リニアベアリングが用いられています。様々なアクチュエータが付いた製品や、1軸ステージや予め多軸ステージとして構築された製品をご用意しております。
Ball Bearing Stages
Product Family
MS Series 1/4" Stages
T12 Series 1/2" Stages
MT Series 1/2" Stages
PT Series 1" Stages
LT Series 2" Stages
Click Photo to Enlarge
Travel
1/4" (6.4 mm)
1/2" (12.7 mm)
1/2" (12.7 mm)
1" (25.4 mm)
2" (50 mm)
Drive Type
Multiple
Thumbscrew
Multiple
Multiple
Differential Micrometer
Platform Size
1.17" x 1.17"
(29.7 mm x 29.7 mm)
0.76" x 0.81"
(19.3 mm x 20.6 mm)
2.40" x 2.41"
(61.0 mm x 61.2 mm)
3.00" x 4.00"
(76.2 mm x 101.6 mm)
3.75" x 3.75"
(95.3 mm x 95.3 mm)
Possible Axis Configurations
X, XY, XYZ
X, XY, XYZ
X, XY, XYZ
X, XY, XYZ
X, XY, XYZ
Additional Details
Item #
MS1(/M),
MS1S(/M),
MS3(/M)
T12X(/M),
T12XY(/M),
T12XZ(/M),
T12XYZ(/M)
MT1(/M),
MT1A(/M),
MT1B(/M),
MT3(/M),
MT3A(/M)
PT1(/M),
PT1A(/M),
PT1B(/M),
PT3(/M),
PT3A(/M)
LT1(/M),
LT3(/M)
Resolution
Down to 0.25 mm/rev
(Dependent on Chosen Drive)
0.25 mm/rev
Down to 0.025 mm/rev
(Dependent on Chosen Drive)
Down to 0.025 mm/rev
(Dependent on Chosen Drive)
Coarse: 0.055" / rev
Fine: 0.010" / rev
Mounting Holes
#4 (M3) Counterbore, 2 Places
4-40 (M3), 2 Places
8-32 (M4), 5 Places
2-56 (M2), 4 Places
Top: 1/4"-20 (M6), 7 Places
Bottom: 1/4"-20 (M6), 7 Places
and 8-32 (M4), 4 Places
1/4"-20 (M6), 16 Places
1/4"-20 (M6), 24 Places
Load Capacity
Horizontal: 7 lbs / 3.2 kg
Vertical: 2.5 lbs / 1.1 kg
Horizontal: 5 lbs / 2.2 kg
Vertical: N/A
Horizontal: 90 lbs / 41 kg
Vertical: 4.4 lbs / 2 kg
Horizontal: Up to 90 lbs / 41 kg
Vertical: Up to 8.8 lbs / 4.0 kg
(Dependent on Chosen Drive)
Horizontal: 70 lbs / 31 kg
Vertical: 40 lbs / 18 kg
アリ溝式ステージ
これらの小型ステージの移動機構にはアリ溝と送りネジが組み込まれています。一般的な移動制御用に適したステージです。
Dovetail Stages
Product Family
DT Series 1/2" Stages
DTS Series 1" Stage
DTS Series 2" Stage
Click Photo to Enlarge
Travel
1/2" (12.7 mm)
1" (25 mm)
2" (50 mm)
Drive Type
Thumbscrew
Thumbscrew
Thumbscrew
Platform Size
1.00" x 1.00" (25.4 mm x 25.4 mm)
2.68" x 2.95" (68.0 mm 75.0 mm)
2.68" x 3.74" (68.0 mm x 95.0 mm)
Possible Axis Configurations
X, XY, XYZ
X, XY, XYZ
X, XY, XYZ
Additional Details
Item #
DT12(/M),
DT12XY(/M),
DT12XZ(/M),
DT12XYZ(/M)
DTS25(/M)
DTS50(/M)
Resolution
0.35 mm/rev
1.0 mm/rev
Mounting Holes
8-32 (M4), 1 Place
1/4"-20 (M6), 13 Places
1/4"-20 (M6), 17 Places
Load Capacity
Horizontal: 2.5 lbs / 1.2 kg
Vertical: 0.55 lbs / 0.25 kg
Horizontal: 88 lbs / 40 kg
Vertical: 22 lbs / 10 kg
フレクシャーステージ
移動ステージNanoflex™には摩擦の無いフレクシャー機構が用いられており、ベアリングを用いた同様のステージと比較して位置決め性能と分解能が向上しています。ステージの移動は、取付けプラットフォームに取り付けられた連結部の弾性変形(たわみ)によって実現されています。多くのモデルには、微細な位置調整用にピエゾアクチュエータも付属します。 
Flexure Stages
Product Family
Nanoflex™ 1.5 mm Stage
Nanoflex™ 5 mm Stages
Click Photo to Enlarge
Travel
1.5 mm (0.06") + 25 µm Piezo
5 mm (0.20")
5 mm (0.20") + 20 µm Piezo
Drive Type
Thumbscrew and Piezo Actuator
Differential Micrometer
Differential Micrometer and
Open-Loop Piezo Actuator
Differential Micrometer and
Closed-Loop Piezo Actuator
Platform Size
1.18" x 1.18" (30.0 mm x 30.0 mm)
2.95" x 2.95" (75.0 mm x 75.0 mm)
Possible Axis Configurations
X, XY, XYZ
X, XY, XYZ
X, XY, XYZ
X, XY, XYZ
Additional Details
Item #
NF15AP25(/M)
NFL5D(/M)
NFL5DP20(/M),
KPZNFL5(/M) (Stage + Controller)
NFL5DP20S(/M)
Resolution
Manual: 0.25 mm/rev
Piezo: 0.76 nm (Theoretical)
Coarse: 0.5 mm/rev
Fine: 50 µm/rev
Coarse: 0.5 mm/rev
Fine: 50 µm/rev
Piezo: 0.6 nm (Theoretical)
Mounting Holes
4-40 (M2), 5 Places
8-32 (M4), 1 Place
6-32 (M3), 4 Places
8-32 (M4), 4 Places
1/4"-20 (M6), 4 Places
Load Capacity
Horizontal: 1.1 lbs / 0.5 kg
Vertical: 0.55 lbs / 0.25 kg
Horizontal: 2.2 lbs / 1 kg
Vertical: 1.1 lbs / 0.5 kg
垂直移動ステージ
当社では精密移動用のクロスローラーベアリングを用いた垂直移動ステージや、高荷重用の長距離垂直移動ステージもご用意しております。 
Item #
MVS05(/M)
MVS1(/M)
VAP4(/M)
VAP10(/M)
Precision
0.025" (0.5 mm) per Adjuster Revolution
0.05" (1.27 mm) per Adjuster Revolution
Mounting Holes
8-32 (M4), 12 Places
1/4"-20 (M6), 13 Places
8-32 (M4), 31 Places
1/4"-20 (M6), 33 Places
Load Capacity
4.4 lbs / 2 kg
50 lbs / 23 kg (Max Moment: 150 in-lbs / 16.9 N•m)