レーザー用保護メガネ、安全規格認証済み
CE Certified Laser Safety Glasses
Wide Selection of Wavelength Ranges
Variety of Frame Styles and Included Carrying Case
LG2
Universal Style
LG10B
Sport Style
LG4A
Comfort Style
Universal Style
LG14C
Modern Goggle Style
Comfort Style
Sport Style
Modern Goggle Style

Please Wait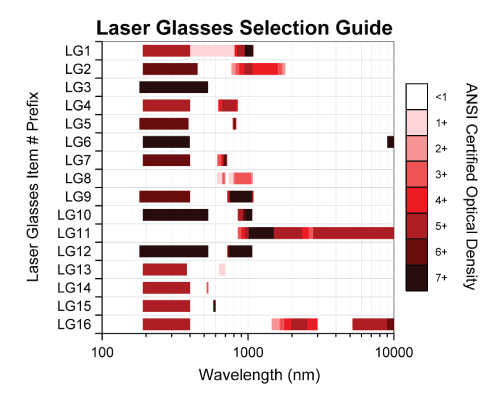 Features
Absorptive Dye Encased in Hardened Polycarbonate Lenses (Resistant to Breaking)*
Surface Scratches Do Not Reduce the Optical Density of the Lenses
Protection Lasts for a Minimum of 10 seconds at Maximum EN 207 Rated Exposure (See

Specs Tutorial

Tab)
Laser Glasses Available in Multiple Frame Styles
Certificates of Conformity Available for Compliance with:

ANSI Z136.1 Standards for Safe Use of Lasers (Except LG16 Series)
ANSI Z87.1-2003 Standards for Occupational and Educational Personal Eye and Face Protection Devices (Except LG16 Series)
EN 207 Standards (Except LG14 Series, See

Specs Tutorial

Tab)
EN 208 Laser Alignment Standards (LG13 and LG14 Series Only, See

Specs Tutorial

Tab)
These Laser Safety Glasses provide CE certified laser radiation protection. The lenses of all glasses except for the LG11 series are made from absorptive dye encapsulated in hardened polycarbonate, which provides superior resistance to breakage and prevents minor scratches from affecting laser protection. The LG11(A) Laser Safety glasses use a Schott glass substrate.*
The optical density (OD) and LB-Rating for specific wavelength ranges are indelibly printed on the lens or frame for permanent identification without blocking the field of view. For a complete list of optical densities and LB-Ratings, please click on the row corresponding to each item # in the selection guide to the right.
Thorlabs offers laser safety glasses in up to four different frame styles (see the Frame Styles tab for details).
The Universal style frame

*

can be worn over prescription glasses and features side and top shield protection from peripheral laser radiation.
The Comfort style frame features detachable inserts for prescription lenses (please consult your doctor to fit lenses for the inserts) and an extended nose piece that may be more comfortable for users who have a low nose bridge.
The Sport style frame is designed to wrap around the user's face, providing full laser protection with a continuous field of view.
Finally, the Modern Goggle style comes with detachable inserts for prescription lenses and a built-in
adjustable strap, making it the most secure of the frame styles.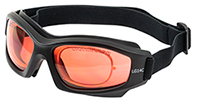 Click for Details
Modern Goggle style shown with built-in neck strap.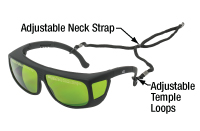 Click to Enlarge
Universal style glasses shown with included neck strap. This separate neck strap is included with Universal, Comfort, and Sport styles.
Each pair of laser safety glasses comes with a protective storage case, cleaning cloth, and adjustable neck strap. However, the Modern Goggle style does not come with the separate neck strap as the neckstrap for the Modern Goggles is built in.
Care Instructions
When not being used, the laser safety glasses should be stored in their protective case and in an area where the temperature does not exceed 80 °F (26.6 °C). The cleaning cloth included with each pair of laser safety glasses can be used for removing dust from the surface of the lens. Products used for cleaning prescription eyeglasses are safe to use with our laser safety glasses. For disinfection of the glasses, we recommend mild detergent or soap and hot water or a dilution of isopropyl alcohol (up to 70% solution). We do not recommend any highly caustic solutions. The laser safety rating will not be affected by any of the above cleaning procedures.
Picking the Appropriate Laser Safety Glasses
Since the correct choice of laser safety eyewear depends upon many local factors that cannot be evaluated remotely, including the beam path, laser parameters, and lab environment, Thorlabs cannot recommend specific eyewear for your application. We would recommend discussing your needs with your organization's laser safety officer.
*The LG11 and LG11A are made using Schott glass, and therefore use a different frame design than our other Universal style laser glasses. Fit over prescription glasses may be affected (see the Frame Styles tab for details). To ensure CE compliance, only two styles are offered. OD and LB-Rating specifications for the LG11 and LG11A are printed on the frame.
OD to % Transmittance Conversions
| OD | Transmittance | OD | Transmittance |
| --- | --- | --- | --- |
| 0.0 | 100% | 5.0 | 0.001% |
| 1.0 | 10% | 6.0 | 0.0001% |
| 2.0 | 1% | 7.0 | 0.00001% |
| 3.0 | 0.1% | 8.0 | 0.000001% |
| 4.0 | 0.01% | 9.0 | 0.0000001% |
OD = Optical Density
T = Transmittance (decimal)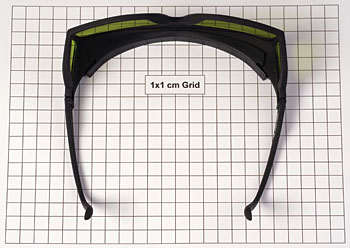 1 x 1 cm
のグリッドの上に置いたユニバーサルタイプのレーザ保護メガネ
LG1
。内寸法が分かります。

Click to Enlarge
Each pair of glasses and goggles comes with a protective carrying case, cleaning cloth, and adjustable neck strap (separate neck strap not included with Modern Goggles).
ユニバーサルタイプ
ユニバーサルタイプのレーザ保護メガネのフレームは、度付き眼鏡の上からでも着用できる大型サイズ(145 mm x 53 mm)となっております。 レンズと同じ材質のサイドシールドとフレームと同じ素材のトップシールドにより、周囲への視野を確保しつつ目をレーザ放射から保護します。 フレームのアーム長は調整可能で、様々なテンプルサイズに対応します。 特定の波長範囲における保護レベルを示したレーザ安全情報がレンズ上に印字されています。
LG11は、Schottガラス製でほかのユニバーサルタイプのレーザ保護メガネとは違うフレームを使用しています。サイドシールドがプラスチック製でレーザ光は通しませんが、視野は狭くなっております。 またこのレーザ保護メガネは度付き眼鏡の上から着用できない場合があります。レーザ安全情報は、左側のサイドシールドの上に印字されていて、レンズ上には印字されていません。
コンフォートタイプ
コンフォートタイプの眼鏡のフレームサイズは中程度(145 mm x 47 mm)で、サイドのシールドが周辺のレーザ放射から目を保護します。 こちらのタイプは、度付き眼鏡の上から着用することができませんが、度付きレンズを脱着できるインサートが付いています(右の写真をクリックするとご覧いただけます)。 レンズをインサートに合わせたい場合には医師にご相談ください。 フレームには長めのブリッジが付いているので、鼻梁が低い方にとってフィット感が良くなっております。 特定の波長範囲における保護レベルを示したレーザ安全情報がレンズ上(LG11Aの場合はフレーム)に印字されています。
スポーツタイプ
スポーツタイプの眼鏡フレームはコンパクト(134 mm x 48 mm)で、完全に視野を覆う設計により、サイドシールドが必要なく、広い視野をもたらします。 このフレームタイプの眼鏡は、長さやアームのジョイント部が調整できるので(右の図をクリックするとご覧いただけます)、頭の形や大きさに合わせたフィット感にカスタマイズ可能です。 スポーツタイプの眼鏡は、度付き眼鏡の上から着用できません。また度付きレンズ用インサートも付属しておりません。 特定の波長範囲における保護レベルを示したレーザ安全情報がレンズ上に印字されています。
ゴーグルタイプ
ゴーグルタイプには調整可能なストラップと目の周囲に密着するガスケットが付いており、また曇り止め用の穴が加工されています。ゴーグルの内寸は133 mm x 51 mmです。レンズの対角長は66 mmです。ゴーグルタイプには度付きレンズを脱着できるインサートが付いています(度付きレンズについては医師にご相談ください)。特定の波長範囲における保護レベルを示したレーザ安全情報がレンズ上に印字されています。
*** このガイドは、ANSI Z136やEN 207もしくはEN 208のレーザ安全規格を理解するための参考資料として用意されたものではありません。このチュートリアルはLGシリーズのレーザ保護眼鏡レンズに付けられたマークをご理解いただくための概要を説明したものです***

ANSI Z136およびEN 207規格
レーザ安全保護眼鏡には容易には消えない方法で2つの数字が印字されています: 1つは光学濃度(OD)、もう1つはLBレーティングで、いずれも特定の波長範囲に対する保護レベルを表す数字です。眼鏡にしっかりと印字されたOD値は、任意のレーザ製品が出射するレーザに対して、眼鏡がANSI Z136規格が規定するレーザ安全基準を満たすレベルであるかどうかを表しています。さらにOD値は安全保護眼鏡の透過率(T)を計算するために用いることができます。
欧州のレーザ安全保護眼鏡に関する規格であるEN 207では、保護眼鏡にCEマークとLBレーティング仕様が容易に消えない方法により表示されていることを規定しています。またこの規定は、レーザーモー ドによって10秒または100パルスの間は規定のレベルで保護特性を発揮することも要求しています。LBレーティングには3つの要素があります:波長範囲、 レーザーモード、スケールナンバです。レーザ保護安全眼鏡に刻印された波長範囲は、 nmで表記されていて、保護安全眼鏡の保護性能は波長に依存するのでこの情報は極めて重要です。レーザーモードは、レーザが放出するレーザーパルスの継続時間に基づいています。
レーザーモードの表示
Laser Mode
Engraved Symbol
Pulse Duration
Continuous Wave (CW)
D
>0.25 s
Pulsed Mode
I
>1µs - 0.25 s
Giant Pulsed Mode
R
1 ns - 1µs
Mode Locked
M
<1ns
上記の情報についてはBSIの公式 EN 207規格の内容をご参照ください。
スケールナンバ(LBn)は波長範囲やレーザーモードと併せて使用していただく数字で、安全保護眼鏡が指定されたレーザに対して必要な最小限度の保護水準を満たしているかを判断するために用いられます。下の表をご参照ください。LBレーティングの一部に共通の情報が含まれていれば、表記される記号をできるだけ短くするために、複数の波長範囲、レーザーモードやスケールナンバの区切りとして+記号が用いられます。さらに「>」という不等号が波長範囲の前にある時、その指定範囲最小値を超える波長から指定範囲最大値を含む波長でモードやスケールナンバは有効であることを示します。例えば、眼鏡のレーティン グが 330-370 D LB2で、 >370-500 D LB3 であった場合、370 nmでのレーティングは D LB2で、370 nmを超えて500 nm以下の波長のレーティングはD LB3となります。
レーザ保護メガネ選択のための欧州基準
Wavelength Range
Laser Mode
Maximum Power Density (P)
or
Maximum Energy Density (E)
Minimum Scale Number (Ln)
180 - 315 nm
D
1x10n-3 W/m2 (1x10n-7 W/cm2)
log10(P)+3
I and R
3x10n+1 J/m2 (3x10n-3 J/cm2)
log10(E/3)-1
M
3x10n+10 W/m2 (3x10n+6 W/cm2)
log10(P)-10
>315 - 1400 nm
D
1x10n+1 W/m2 (1x10n-3 W/cm2)
log10(P)-1
I and R
5x10n-3 J/m2 (5x10n-7 J/cm2)
log10(E/5)+3
M
1.5x10n-4 J/m2 (1.5x10n-8 J/cm2)
log10(E/1.5)+4
>1400 - 1000000 nm
D
1x10n+3 W/m2 (1x10n-1 W/cm2)
log10(P)-3
I and R
1x10n+2 J/m2 (1x10n-2 J/cm2)
log10(E)-2
M
1x10n+11 W/m2 (1x10n+7 W/cm2)
log10(P)-11
上記の情報についてはBSIの公式 EN 207 規格の内容をご参照ください。
上記の表を使うには2つの方法があります。1つは特定のスケールナンバを定めて安全なパワー密度の最大値を計算する方法で、もう1つは特定のパワー密度を定めて安全なスケールナンバの最小値を計算する方法です。これらの計算の例を以下に示します。
例1: LG3のレーザ安全保護眼鏡に記してあるLBレーティング情報は「180-315 D LB7 + IR LB4」となっています。このLG3の眼鏡を10 µsパルスの280 nm光源に対して使用したとします。上の表を見るとE=3x10n+1 J/m2という数式が見つかります。この例ではスケールナンバがL4であることからn=4となります。結果としてLG3レーザ安全保護眼鏡がこの状況で使用されている場合は、光源のパワー密度が3x105 J/m2を超えてはならないことがわかります。
例2: CWクリプトンイオンレーザが647.1 nmのレーザを出射して、最大パワー密度が2.2x104 W/m2であるとします。上の表を利用してLn=log10(P)-1 の数式でスケールナンバを計算すると、端数切り上げ後のスケールナンバは4となります。この例では、LG4レーザ安全保護眼鏡が欧州のEN 207規格に適合していることがわかります。
アライメント等級(EN208)
レーザ保護メガネLG13(A)(B)とLG14(A)(B)は、アライメント用途向けに等級付けされています。この等級では、アライメントのために光の一部が透過すること を許容していますが、万一直接ビームにさらされた場合に、目に安全なパワーレベルまで光を減衰します。等級値はRB# で示されており、ここで#は特定の波長または波長範囲( nm)での最小光学濃度を表します。このRB値と共に、開口がØ7 mmを超える場合のレーザの最大許容パワーとエネルギが示されます。パワーは0.2 msを超えるパルスを対象としており、一方で、エネルギは1 ns~0.2 msのパルス用に規定されています。パルスレーザをお使いになる場合、補正係数N1/4を最大エネルギ定格にかける必要があります。ここでは、Nはレーザが10秒間隔で生成するパルスの数です。
例: レーザ保護メガネLG14のアライメント等級は1W2×10-4J 532 RB3です。532 nmでのメガネの光学濃度は、3~4となり、透過率0.1%~0.01%に相当します。532 nmで開口がØ7 mmより大きい場合に、 この保護メガネが対応できる最大パワーは、CWまたは0.2 msを超えるパルスにおいて1 Wで、最大エネルギは、1 ns~0.2 msのパルスで2×10-4Jです。
上記の情報についてはBSIの公式 EN 208規格の内容をご参照ください。
---
dBm → mW 光強度変換表
| dBm | mW | dBm | mW |
| --- | --- | --- | --- |
| 0.0 | 1.0000 | 10.0 | 10.0000 |
| 2.0 | 1.5849 | 20.0 | 100.0000 |
| 4.0 | 2.5119 | 30.0 | 1,000.0000 (1 W) |
| 6.0 | 3.9811 | 40.0 | 10,000.0000 (10 W) |
| 8.0 | 6.3096 | 50.0 | 100,000.0000 (100 W) |
P(mW) = Power in mW
---
光ファイバからの出力光
NA
Divergence Half Angle, Θ
Beam Area
@25.4 mm (1") From Fiber
0.10
5.7°
20 mm2
0.15
8.6°
46 mm2
0.20
11.5°
83 mm2
0.25
14.4°
133 mm2
0.30
17.4°
199 mm2
0.35
20.4°
280 mm2
0.40
23.5°
383 mm2
0.45
26.7°
512 mm2
0.50
30.0°
675 mm2
光ファイバの場合、ファイバ端面から出力される光は拡散するので、光密度は小さくなり、眼への損傷を与える危険性は減少します。左表ではファイバから出力される光の25.4 mm離れた地点における面積を開口数(NA:0.1~0.5)をパラメータとして表示しています。光ファイバから出力されるトータル光出力が分かれば、ファイバ端面から25.4 mm離れた地点における光密度が計算できます。この光密度の計算結果によって、ファイバ端面からどの程度離れれば安全かを知ることができます。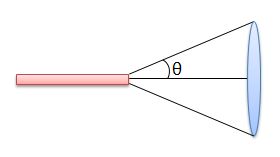 レーザの安全性とクラス分類
レーザを取り扱う際には、安全に関わる器具や装置を適切に取扱い、使用することが重要です。ヒトの目は損傷しやすく、レーザ光のパワーレベルが非常に低い場合でも障害を引き起こします。当社では豊富な種類の安全に関わるアクセサリをご提供しており、そのような事故や負傷のリスクの低減にお使いいただけます。可視域から近赤外域のスペクトルでのレーザ発光がヒトの網膜に損傷を与えうるリスクは極めて高くなります。これはその帯域の光が目の角膜やレンズを透過し、レンズがレーザーエネルギを、網膜上に集束してしまうことがあるためです。
安全な作業および安全に関わるアクセサリ
クラス3または4のレーザを取り扱う場合は、必ずレーザ用保護メガネを装着してください。
当社では、レーザのクラスにかかわらず、安全上無視できないパワーレベルのレーザ光線を取り扱う場合は、ネジ回しなどの金属製の器具が偶然に光の方向を変えて再び目に入ってしまうこともあるので、レーザ用保護メガネを必ずご使用いただくようにお勧めしております。
特定の波長に対応するように設計されたレーザ保護眼鏡は、装着者を想定外のレーザ反射から保護するために、レーザ装置付近では常に装着してください。
レーザ保護眼鏡には、保護機能が有効な波長範囲およびその帯域での最小光学濃度が刻印されています。
レーザ保護カーテンやレーザー安全保護用布は実験室内での高エネルギーレーザの遮光にご使用いただけます。
遮光用マテリアルは、直接光と反射光の両方を実験装置の領域に封じ込めて外に逃しません。
当社の筺体システムは、その内部に光学セットアップを収納し、レーザ光を封じ込めて危険性を最小限に抑えます。
ピグテール付き半導体レーザは、他のファイバに接続、もしくは他のファイバとの接続を外す際には、レーザ出力をOFFにしてください。パワーレベルが10 mW以上の場合には特にご注意ください。
いかなるビーム光も、テーブルの範囲で終端させる必要があります。また、レーザ使用中には、研究室の扉は必ず閉じていなければなりません。
レーザ光の高さは、目線の高さに設定しないでください。
実験は光学テーブル上で、全てのレーザービームが水平を保って直進するように設定してください。
ビーム光路の近くで作業する人は、光を反射する不要な装飾品やアクセサリ(指輪、時計など)をはずしてください。
レンズや他の光学装置が、入射光の一部を、前面や背面で反射する場合がありますのでご注意ください。
あらゆる作業において、レーザは必要最小限のパワーで動作するようにご留意ください。
アライメントは、可能な限りレーザの出力パワーを低減して作業を行ってください。
レーザのセットアップの近くや実験室には、適切なレーザ標識やラベルを掲示してください。
クラス3Rやクラス4のレーザ(安全確保用のインターロックが必要となるレーザーレベルの場合)で作業する場合は、警告灯をご用意ください。
ビームトラップの代用品としてレーザービュワーカードを使用したりしないでください。
レーザ製品のクラス分け
レーザ製品は、目などの損傷を引き起こす可能性に基づいてクラス分けされています。国際電気標準会議(The International Electrotechnical Commission 「IEC」)は、電気、電子工学技術関連分野の国際規格の策定および普及を行う国際機関で、IEC60825-1は、レーザ製品の安全性を規定するIEC規格です。レーザ製品のクラス分けは下記の通りです
Class
Description
Warning Label
1
ビーム内観察用の光学機器の使用を含む、通常の条件下での使用において、安全とみなされているクラス。このクラスのレーザ製品は、通常の使用範囲内では、人体被害を及ぼすエネルギーレベルのレーザを発光することがないので、最大許容露光量(MPE)を超えることはありません。このクラス1のレーザ製品には、筐体等を開かない限り、作業者がレーザに露光することがないような、完全に囲われた高出力レーザも含まれます。
1M
クラス1Mのレーザは、安全であるが、望遠鏡や顕微鏡と併用した場合は危険な製品になり得ます。この分類に入る製品からのレーザ光は、直径の大きな光や拡散光を発光し、ビーム径を小さくするために光を集束する光学素子やイメージング用の光学素子を使わない限り、通常はMPEを超えることはありません。しかし、光を再び集光した場合は被害が増大する可能性があるので、このクラスの製品であっても、別の分類となる場合があります。
2
クラス2のレーザ製品は、その出力が最大1 mWの可視域での連続放射光に限定されます。瞬目反射によって露光が0.25秒までに制限されるので、安全と判断されるクラスです。このクラスの光は、可視域(400~700 nm)に限定されます。
2M
このクラスのレーザ製品のビーム光は、瞬目反射があるので、光学機器を通して見ない限り安全であると分類されています。このクラスは、レーザ光の半径が大きい場合や拡散光にも適用されます。
3R
クラス3Rのレーザ製品は、直接および鏡面反射の観察条件下で危険な可視光および不可視光を発生します。特にレンズ等の光学機器を使用しているときにビームを直接見ると、目が損傷を受ける可能性があります。ビーム内観察が行われなければ、このクラスのレーザ製品は安全とみなされます。このクラスでは、MPE値を超える場合がありますが、被害のリスクレベルが低いクラスです。可視域の連続光のレーザの出力パワーは、このレベルでは5 mWまでとされています。
3B
クラス3Bのレーザは、直接ビームを見た場合に危険なクラスです。拡散反射は通常は有害になることはありませんが、高出力のクラス3Bレーザを使用した場合、有害となる場合もあります。このクラスで装置を安全に操作するには、ビームを直接見る可能性のあるときにレーザ保護眼鏡を装着してください。このクラスのレーザ機器にはキースイッチと安全保護装置を設け、さらにレーザ安全表示を使用し、安全照明がONにならない限りレーザがONにならないようにすることが求められます。Class 3Bの上限に近いパワーを出力するレーザ製品は、やけどを引き起こすおそれもあります。
4
このクラスのレーザは、皮膚と目の両方に損傷を与える場合があり、これは拡散反射光でも起こりうるとみなされています。このような被害は、ビームが間接的に当たった場合や非鏡面反射でも起こることがあり、艶消し面での反射でも発生することがあります。このレベルのレーザ機器は細心の注意を持って扱われる必要があります。さらに、可燃性の材質を発火させることもあるので、火災のリスクもあるレーザであるとみなされています。クラス4のレーザには、キースイッチと安全保護装置が必要です。
全てのクラス2以上のレーザ機器には、上記が規定する標識以外に、この三角の警告標識が表示されていなければいけません。