半導体レーザー用高安定、定電流ドライバー
Zener & Schottky Diode Protection
250 mA and 2.5 A Versions
RoHS Compliant Drivers Available
LD3000R
LD1255R
Application Idea
LD1255R
Mounted on an LD1255P
(Power Supply Not Included)

Please Wait
Item #
LD1255R
LD3000R
Operating Current
0.2 to 250 mA
0.02 to 2.5 A
Operating Mode
Constant Current
Internal Current Control
12 Turn Potentiometer (On Board)
External Current Control
0 to 5 Volt Analog Input Voltage
Operating Voltage
±8 to 12 Volts
Monitor Photodiode
Transimpedance Gain
1000 V/A
LD1255R(250 mA)は低ノイズかつ高い安定性を特長とする定電流モードの半導体レーザードライバです。LD3000Rは、LD1255Rの高出力(2.5 A)バージョンです。これらのレーザはLED駆動用に推奨しています。どちらのレーザ電流ドライバも、A、D、Eスタイルのピン配置に完全対応しています(下記参照)。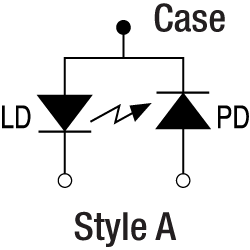 注: LD1255RとLD3000Rのフォトダイオードのモニタ回路は、アイソレート型のフォトダイオードアノードにのみ対応しています(フォトダイオードのカソードがレーザーアノードに接続されています)。これらの製品はカソードコモンのレーザには対応していません。これらのレーザのフォトダイオードをLD1255RまたはLD3000Rに接続した場合、レーザが破壊されます。フォトダイオードアノードがドライバに接続されていなければ、 LD1255RとLD3000Rは、カソードコモンレーザのレーザ部分を問題なく駆動します。
Item #
LD1255R
Operating Current
0.2 to 250 mA
Operating Mode
Constant Current
Internal Current Control
12 Turn Potentiometer (On Board)
External Current Control
0 to 5 V Analog Input Voltage
Output Current Drift
4.4 μA/°C (Typical)
Current Noise
< 1 μARMS
Operating Voltage
±8 to 12 V
Dimensions
2.45" x 1.03" (62.2 mm x 25.4 mm)
LD ESD Protection
Forward Voltage: 160 ms Slow-Start Circuit, 3.3 V Zener Diode,
Reverse Voltage: Schottky Diode, LD DISABLE Pin
Signal Bandwidth
1.2 kHz
Monitor Photodiode
Transimpedance Gain
1000 V/A
Max LD Forward Voltage
3.3 V
Operating Temperature
10 to 30 °C
Storage Temperature
-20 to 50 °C
Warm-up Time
30 Minutes
Item #
LD3000R
Operating Current
0.02 to 2.5 A
Operating Mode
Constant Current
Internal Current Control
12 Turn Potentiometer (On Board)
External Current Control
0 to 5 V Analog Input Voltage
Operating Voltage
±8 to 12 V
Dimensions
3.6" x 1.3" (91.4 mm x 33.0 mm)
Monitor Photodiode
Transimpedance Gain
1000 V/A
Operating Temperature
10 to 30 °C
Storage Temperature
-20 to 50 °C
Warm-up Time
30 Minutes
LD1255R平面図

LD3000R平面図

LD1255Rのピン配列
| Pin | Function |
| --- | --- |
| J1-1 | +V (+8 to +12 VDC, 10 mA) |
| J1-2 | Common |
| J1-3 | -V (-8 to -12 VDC, 0.3A) Provides Power to Laser |
| J1-4 | External Current Control (0 to +5 V) |
| J1-5 | Disable |
| J1-6 | Laser Diode Anode |
| J1-7 | Laser Diode Cathode |
| J1-8 | Monitor Photo Diode Anode (From Laser)a |
| J1-9 | Photodiode Monitor Output (-1 V/mA) |
| J1-10 | Laser Current Monitor Output (10 mV/mA) |
LD1255Rのフォトダイオードモニタ回路は、アノードが電気的に分離されているフォトダイオードを持つレーザにのみ対応しています。 CQL7825/DおよびCQL7840/Dなどの一般的なカソードレーザには対応しておりません。 
LD3000Rのピン配列 
| Pin | Function |
| --- | --- |
| J1-1 | +V (+5 to +12 VDC, 50 mA) |
| J1-2 | Ground |
| J1-3 | -V (-8 to -12 VDC, 2.5A) Provides Power to Laser |
| J1-4 | External Current Control (0 to +5 V) |
| J1-5 | No Contact (Polarization Key) |
| J1-6 | Laser Diode Anode (Internally Connected to Pin 2 Ground) |
| J1-7 | Laser Diode Cathode |
| J1-8 | Monitor Photo Diode Anode (From Laser)a |
| J1-9 | Photodiode Monitor Output (-1 V/mA) |
| J1-10 | Laser Current Monitor Output (1 V/A) |
LD3000Rのフォトダイオードモニタ回路は、 フォトダイオードのアノードが電気的に分離されている(フォトダイオードのカソードがレーザのアノードに接続している)レーザにのみ対応しています。 一般的なカソードレーザにはお使いいただけません。 これらのレーザのフォトダイオードをLD3000Rに接続するとレーザは破壊されます。 フォトダイオードのアノードがLD3000Rに接続されない限り、このドライバは一般的なカソードレーザを問題なく駆動させます。 
J2 Pins to Jumper
Operating Mode
1 to 2
Mode 1. COMMON Referenced
External Current Control
2 to 3
Mode 2. Disable External Current Control
J2 Pins to Jumper
Operating Mode
2 to 3
Mode 1. COMMON Referenced
External Current Control
4 to 5
Mode 2. Disable External Current Control
重要: J2に取り付けられているジャンパがない状態でLD3000Rを起動させないでください。 レーザがオーバードライブを起こし、致命的な損傷を受ける可能性があります。 
| Remaining J2 Pins | Function |
| --- | --- |
| 1 | No Connection (Leave this Pin Floating) |
| 5 | -V (May also be used for Monitoring Signals) |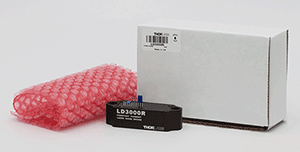 Click to Enlarge
LD3000R Packaging
Item #
% Weight
Reduction
CO2-Equivalent
Reductiona
LD3000R
15.26%
1.32 kg
Smart Pack
Reduce Weight of Packaging Materials
Increase Usage of Recyclable Packing Materials
Improve Packing Integrity
Decrease Shipping Costs
Thorlabs' Smart Pack Initiative is aimed at waste minimization while still maintaining adequate protection for our products. By eliminating any unnecessary packaging, implementing packaging design changes, and utilizing eco-friendly packaging materials for our customers when possible, this initiative seeks to improve the environmental impact of our product packaging. Products listed above are now shipped in re-engineered packaging that minimizes the weight and the use of non-recyclable materials.b As we move through our product line, we will indicate re-engineered packages with our Smart Pack logo.
Travel-based emissions reduction calculations are estimated based on the total weight reduction of packaging materials used for all of 2013's product sales, traveling 1,000 miles on an airplane, to provide general understanding of the impact of packaging material reduction. Calculations were made using the EPA's shipping emissions values for different modes of transport.
Some Smart Pack products may show a negative weight reduction percentage as the substitution of greener packaging materials, such as the Greenwrap, at times slightly increases the weight of the product packaging.
半導体レーザーコントローラーセレクションガイド
下の表は、当社の半導体レーザ用コントローラおよびデュアル半導体レーザ/温度コントローラの主な仕様の一覧です。詳しい内容や仕様について、またはご注文の際には表内の型番をクリックしてご確認ください。
Dual Temperature and Current Controllers
Item #
Drive Current
Compliance Voltage
TEC Power (Max)
Constant Current
Constant Power
Modulation
Package
VITC002
25 mA
5 V
> 2 W
-
Int/Ext
OEM
ITC102
200 mA
> 4 V
12 W
Ext
OEM
ITC110
1 A
> 4 V
12 W
Ext
OEM
ITC4001
1 A
11 V
> 96 W
Int/Ext
Benchtop
CLD1010LPa
1.0 A
> 8 V
> 14.1 W
Ext
Benchtop
CLD1011LPb
1.0 A
> 8 V
> 14.1 W
Ext
Benchtop
CLD1015c
1.5 A
> 4 V
> 14.1 W
Ext
Benchtop
ITC4002QCLd
2 A
17 V
> 225 W
Int/Ext
Benchtop
ITC133
3 A
> 4 V
18 W
Ext
OEM
ITC4005
5 A
12 V
> 225 W
Int/Ext
Benchtop
ITC4005QCLd
5 A
20 V
> 225 W
Int/Ext
Benchtop
ITC4020
20 A
11 V
> 225 W
Int/Ext
Benchtop
半導体レーザ用マウント付きコントローラ(ピンコードがA、D、E、Gのピグテール付きTO-Can型半導体レーザにのみ対応)
半導体レーザ用マウント付きコントローラ(ピンコードがB、C、Hのピグテール付きTO-Can型半導体レーザにのみ対応)
半導体レーザ用マウント付きコントローラ(バタフライ型半導体レーザにのみ対応) 
量子カスケードレーザ(QCL)用に高く設定したコンプライアンス電圧
当社では製品組み込み用あるいはラックマウントの半導体レーザ電流&温度コントローラ(組み込み用モジュール、PRO8電流コントロールモジュール、PRO8電流&温度コントロールモジュール)もご用意しております。

レーザ用ディスエイブルピン
レーザ保護のためのスロースタート回路
LD1255Pを使って光学テーブルまたはブレッドボードに取付け
サイズ: 62.2 x 25.4 mm
RoHS準拠
低い電流ノイズ (<1 μARMS)
低温度ドリフト
基板上に12回転電流調整用ボリューム
レーザ電流制御用外部入力
レーザ電流およびフォトダイオード電流用モニタ出力
LD1255Rは、低ノイズ、高安定、定電流半導体レーザードライバです。駆動電流は250 mAで、ピン配列A、D、Eのレーザに対応しています。外部共振器型波長可変レーザで駆動するような要求の厳しい半導体レーザ用途でもご使用いただけます。この第2世代の半導体レーザードライバは、基板上にツェナーダイオードおよびショットキーダイオード保護回路とディスエイブルピンが搭載されています。オペアンプと電圧参照の設計により、より正確なレーザ電流制御が可能です。LD1255Rは、ポスト取付け用M4タップ穴付きの取付けプレートLD1255Pによって、ブレッドボードや光学テーブルに固定できます。

低ノイズの2.5 A駆動電流
レーザ保護のためのスロースタート回路
RoHS準拠モデルをご用意
1.0 Aで12 µARMSの低ノイズ
基板上に12回転電流調整用ボリューム
電流制御用外部入力
レーザ電流とフォトダイオード電流用モニタ出力
LD3000Rは、上記の高安定、低ノイズ半導体レーザードライバ LD1255Rの高出力バージョンです。高電流用部品が使われており、2.5 Aの電流が供給できます。また、ピン配列A、D、Eに対応しています。アルミニウム製の筺体がヒートシンクの役割を果たし、比較的小型で高安定な半導体レーザードライバとなっています。 このデバイスは、LED と半導体レーザのいずれも駆動できます。



Click to Enlarge
付属ケーブルのピン配列
| Pin # | Assignment |
| --- | --- |
| 1 | +12 V |
| 2 | GND |
| 3 | -12 V |
ドライバLD1255R用の電源(型番LDS12B)とケーブル
付属の3ピンケーブルはドライバとの接続用
出力:±12 VDC
AC入力電圧は切り替え可能(100/120/230 V)
LD1255用電源セットには、電源LDS12Bと、半導体レーザ用ドライバLD1255R(上記参照)に接続するためのケーブルが含まれています。電源筐体のスイッチによりAC入力電圧を100 V、120 Vまたは230 Vから選択できます。付属のケーブルを用いて、電源から半導体レーザ用ドライバLD1255Rに±12 VDCを供給することができます。このケーブルは半導体レーザ用ドライバLD3000Rには対応していません。付属のケーブルは単体でのご注文も可能ですので、その際は当社までご連絡ください。