半導体レーザーコントローラー、20 mA ~4 A
Constant Current or Constant Power Driving of Laser Diodes
Extremely Low Noise
Compatible with all Laser Diode & Photodiode Polarities
Current Limit and Interlock for Laser Diode Protection
LDC205C
CAB400
LDC240C Front

Please Wait
特長
極めて低ノイズ(LDC201CU 0.2 μA)
5桁のLEDディスプレイ
アナログ制御入力と出力
信頼性の高い半導体レーザ保護機能
半導体レーザとフォトダイオードの全極性に対応
レーザ電流範囲20 mA~4 Aの7つのモデルをご用意
Certificate of Calibration(校正証明書)および検査報告書を同梱
1.5 mの接続ケーブル1本がコントローラ本体に付属
LDC200Cシリーズの半導体レーザーコントローラは、非常に優れた性能を発揮します。ご提供可能な7つのモデルは、それぞれ異なる電流範囲に対応し、各製品はその特定の用途に適切な性能を実現するように構成されています。各ユニットには完全試験報告書と校正証明書が添付されています。製品情報の詳細については、「仕様」タブと「セレクションガイド」タブをご参照ください。
当社ではこれらのコントローラを24か月ごとに校正することをお勧めしております。当社では再校正サービスを提供しております。詳細は当社までお問い合わせください。
モード
LDC200Cシリーズの半導体レーザーコントローラでは、半導体レーザを定電流(CC)モードあるいは定光出力(CP)モードで駆動できます。全ての半導体レーザと フォトダイオード搭載型の製品に対応しています。半導体レーザは、常にグラウンド接地を基準として駆動されます。フローティング接地型のコントローラと比較して、このグラウンド接地はノイズ、過渡抑止と安定性の面で優れています。
定電流モード
定電流(CC)モードでは、レーザへの電流は設定されたレベルに厳密に保たれます。このモードは、低いノイズと速い反応速度が必要とされる場合に使用されます。このモードを使う用途では、殆どの場合に温度安定化も要求されますが、当社では、最大値12 WのTED200Cと最大値225 WのTED4015の2つの温度コントローラの製品をご提供しています。
定光出力モード
定光出力(CP)モードでは、殆どの半導体レーザーパッケージに内蔵されているフォトダイオードからの信号を利用してフィードバックすることによりレーザ出力を安定化します。CPモードでは、フォトダイオード電流のフルスケールを調整することにより、個々の半導体レーザにおけるフォトダイオードの電流の違いを補償しています。
コントローラの使用
直感的かつユーザーフレンドリな操作
選択された動作モードに関係なく、5桁のLEDデイスプレイではレーザ電流、フォトダイオードのモニタリング電流やレーザ電流の限界値を表示することができます。また光出力をmWの単位で表示することも可能です。出力計測値は、前面パネルの調整用ポテンショメータでモニタ用フォトダイオードの感度に対応して校正できます。多くの用途では、前述の利点によって、別個の光パワーメータは必要ありません。
背面パネルからの制御
ユニットの背面には、レーザ電流または光出力用の変調入力端子(半導体レーザのパルス出力に使用可能)、電流に比例する出力端子、そしてリモート制御でレーザON/OFFするTTL入力端子があります。
保護特性
電流リミット
電流リミットは精密調整できるので、レーザ電流が最大値を超えないように調整できます。調整ミスを防ぐために、当社では意識的にこの部分の操作の実行が難しくなるように製品設計しました。予め設定された値より大きなレーザの駆動電流を供給しようとすると、表示と音声で警告します。外部変調機能を利用する場合でも、予め設定された値を超える電流供給はできないようになっています。
電流電源
電流電源と半導体レーザ間の接続が遮断されると、電流電源は自動的に電流の出力をスイッチOFFします。電流回路がオープンになると、LEDが「OPEN」と表示し、短い警告音が鳴ります。独立したレーザONのキースイッチにより、レーザ電流をON/OFFできます。スイッチがOFFになると、LDC200C内の電子スイッチが、半導体レーザを短絡させて確実に保護します。スイッチがONになった時には、ソフトスタートが実行され、過渡電圧無しで電流がゆるやかに増大するようになっています。ライン故障が起こっても、レーザ電流は過渡的な影響を受けません。ACラインにおける電圧ピークは、電気フィルタ、トランスの遮蔽、適切な筺体の接地により抑制されます。
接続ケーブル
当社の半導体レーザーマウントにLDC200CシリーズのLDコントローラを接続するためには、ケーブルCAB400が必要です。各コントローラ本体にはケーブルが1本付属しています(長さ1.5 m)。追加のケーブルも下記にてお買い求めいただけます。
Item #
LDC200CV
LDC201CU
LDC202C
LDC205C
LDC210C
LDC220C
LDC240C
Current Control (Constant Current Mode)
Control Range
0 to ± 20 mA
0 to ± 100 mA
0 to ± 200 mA
0 to ± 500 mA
0 to ± 1 A
0 to ± 2 A
0 to ± 4 A
Compliance Voltage
>6 V
>5 V
>10 V
>10 V
>10 V
>4 V
>5 V
Resolution
1.0 µA
10 µA
10 µA
10 µA
100 µA
100 µA
100 µA
Accuracy
±20 µA
±50 µA
±100 µA
±0.5 mA
±1.0 mA
±2.0 mA
±4.0 mA
Noise Without Ripplea
<1.0 µA
<0.2 µA
<1.5 µA
<3 µA
<5 µA
<15 µA
<50 µA
Rippleb
<0.5 µA
<0.5 µA
<1.5 µA
< 2 µA
<3 µA
<5 µA
<8 µA
Transients (typ.)
<10 µA
<10 µA
<0.2 mA
<0.5 mA
<1 mA
<2 mA
<4 mA
Drift, 24hoursc
<1 µA
<2 µA
<3 µA
<10 µA
<20 µA
<100 µA
<200 µA
Temperature Coefficient
<50 ppm/°C
Current Limit
Setting Range
0 to >20 mA
0 to >100 mA
0 to >200 mA
0 to >500 mA
0 to >1 A
0 to >2 A
0 to >4 A
Resolution
1 µA
10 µA
10 µA
10 µA
100 µA
100 µA
100 µA
Accuracy
±50 µA
±200 µA
±500 µA
±1.5 mA
±2.5 mA
±5 mA
±10 mA
Power Control (Constant Power Mode)
Photocurrent Control Range
5 µA to 2 mA
25 µA to 10 mA
50 µA to 20 mA
Photocurrent Resolution
0.1 µA
1 µA
1 µA
Photocurrent Accuracy
±2 µA
±10 µA
±20 µA
Analog Modulation Input
Input Resistance
10 kΩ
Small Signal 3dB Bandwidth,
CC Mode
DC to 100 kHz
DC to 0.2 kHz
DC to 250 kHz
DC to 150 kHz
DC to 100 kHz
DC to 50 kHz
DC to 30 kHz
Modulation Coefficient,
CC Mode
2 mA/V ± 5%
10 mA/V ± 5%
20 mA/V ± 5%
50 mA/V ± 5%
100 mA/V ± 5%
200 mA/V ± 5%
400 mA/V ± 5%
Modulation Coefficient, CP Mode
0.2 mA/V ± 5%
1 mA/V ± 5%
2 mA/V ± 5%
Laser Current Monitor Output
Load Resistance
>10 kΩ
Transmission Coefficient
500 V/A ± 5%
100 V/A ± 5%
50 V/A ± 5%
20 V/A ± 5%
10 V/A ± 5%
5 V/A ± 5%
2.5 V/A ± 5%
General data
Safety Features
Interlock, Laser Current Limit, Soft Start, Short Circuit when Laser Off,
Open Circuit Detection, Over Temperature Protection
Display
LED, 5 Digits
Connector for Laser, Photodiode,
Interlock & Laser On Signal
9-pin D-Sub Jack
Connectors for Control
Input / Output
BNC
Chassis Ground Connector
4 mm Banana Jack
Line Voltage / Frequency
100 V, 115 V, 230 V +15% –10% each / 50 to 60 Hz
Maximum Power Consumption
20 VA
20 VA
25 VA
30 VA
40 VA
60 VA
100 VA
Mains Supply Overvoltage
Category II (Cat II)
Operating Temperature
0 to 40 °C
Storage Temperature
-40 to 70 °C
Relative Humidity
Max. 80% Up to 31 °C, Decreasing to 50% at 40 °C
Pollution Degree (Indoor Use Only)
2
Operation Altitude
<2000 m
Warm-up Time for
Rated Accuracy
10 min
Weight
<3.1 kg
<3.3 kg
Dimensions (W X H X D)
without Operating Elements
146 x 66 x 290 mm³
Dimensions (W X H X D)
with Operating Elements
146 x 77 x 320 mm³
10 Hz~10 MHz、rms、典型値
50/60 Hz、rms、典型値
0~10 Hz 典型値(@一定の室温)。
LDC前面パネル

Click to Enlarge
Callout
Connection
Callout
Connection
1
5-Digit LED Display
9
Display Indicators
2
Display Units
10
Up/Down Display Select
3
Interlock Indicators
11
Diode Polarization Indicator
4
Laser Status Indicator
5
Laser Current On/Off Switch
12
Output Mode Indicator
6
Display Adjustment Knob
13
Diode Polarization Select
7
Supply Power Switch
14
Output Mode Select
8
Current Limit and Power Calibration Pots
15
Photodiode Current Range Pot
---
LDC背面パネル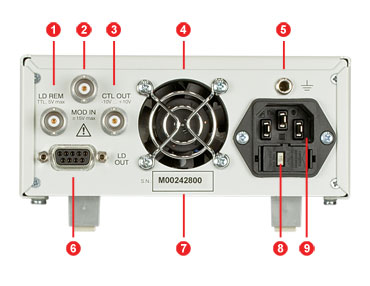 Click to Enlarge
Callout
Connection
Callout
Connection
1
TTL Input "LD REM" 0 to 5 V
6
Connector "LD OUT" for LD, PD, Interlock, & Status LED
2
Modulation Input / Analog Control Input "MOD IN", -10 to +10 V
7
Serial Number of the Unit
3
Analog Control Output "CTL OUT",
-10 to +10 V
8
Indicator / Switch for Line Voltage (Included in Fuse Holder)
4
Cooling Fan
5
4 mm Banana Jack for Chassis Ground
9
Power Connector and Fuse Holder
Pin
Connection
Pin
Connection
1
Interlock and Status LASER ON/OFF
6
Not Connected
2
Photodiode Cathode
7
Laser Diode Cathode (with Polarity Anode Grounded - AG)
3
Laser Diode Ground
8
Laser Diode Anode (with Polarity Cathode Grounded - CG)
4
Photodiode Anode
5
Ground for Pin 1
9
Not Connected
半導体レーザ接続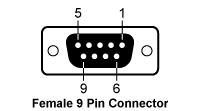 半導体レーザーリモート端子*

*TTL入力 (0...+5 V)
変調入力端子**

* * アナログ制御入力(-10 V ...10V)
制御出力端子***

***アナログ制御出力(0 ...±10 V)
シャーシグラウンド端子

半導体レーザーコントローラーセレクションガイド
下の表は、当社の半導体レーザ用コントローラおよびデュアル半導体レーザ/温度コントローラの主な仕様の一覧です。詳しい内容や仕様について、またはご注文の際には表内の型番をクリックしてご確認ください。
Dual Temperature and Current Controllers
Item #
Drive Current
Compliance Voltage
TEC Power (Max)
Constant Current
Constant Power
Modulation
Package
VITC002
25 mA
5 V
> 2 W
-
Int/Ext
OEM
ITC102
200 mA
> 4 V
12 W
Ext
OEM
ITC110
1 A
> 4 V
12 W
Ext
OEM
ITC4001
1 A
11 V
> 96 W
Int/Ext
Benchtop
CLD1010LPa
1.0 A
> 8 V
> 14.1 W
Ext
Benchtop
CLD1011LPb
1.0 A
> 8 V
> 14.1 W
Ext
Benchtop
CLD1015c
1.5 A
> 4 V
> 14.1 W
Ext
Benchtop
ITC4002QCLd
2 A
17 V
> 225 W
Int/Ext
Benchtop
ITC133
3 A
> 4 V
18 W
Ext
OEM
ITC4005
5 A
12 V
> 225 W
Int/Ext
Benchtop
ITC4005QCLd
5 A
20 V
> 225 W
Int/Ext
Benchtop
ITC4020
20 A
11 V
> 225 W
Int/Ext
Benchtop
半導体レーザ用マウント付きコントローラ(ピンコードがA、D、E、Gのピグテール付きTO-Can型半導体レーザにのみ対応)
半導体レーザ用マウント付きコントローラ(ピンコードがB、C、Hのピグテール付きTO-Can型半導体レーザにのみ対応)
半導体レーザ用マウント付きコントローラ(バタフライ型半導体レーザにのみ対応) 
量子カスケードレーザ(QCL)用に高く設定したコンプライアンス電圧
当社では製品組み込み用あるいはラックマウントの半導体レーザ電流&温度コントローラ(組み込み用モジュール、PRO8電流コントロールモジュール、PRO8電流&温度コントロールモジュール)もご用意しております。

半導体レーザ電流コントローラLDC200Cシリーズ
半導体レーザーコントローラLDC200Cシリーズは非常に優れた性能を発揮します。 ご提供可能な7つのモデルは、それぞれ異なる電流範囲に対応し、各製品はその特定の用途に適切な性能を実現するように構成されています。 各ユニットには完全試験報告書とCertificate of Calibration(校正証明書)が添付されています。 製品情報の詳細については「仕様」タブと「セレクションガイド」タブをご参照ください。1.5 mの接続ケーブル1本がコントローラ本体に付属します。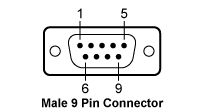 CAB400 (9 Pin Male) Cable
Pin #
Description
1
Interlock and Status LASER ON/OFF
2
Photodiodea
3
Laser Diode Ground
4
Photodiodeb
5
Ground for Pin 1
6
Voltage Measurement Laser Diode Cathodec
7
Laser Diode Cathode (with Polarity Anode Grounded - AG)
8
Laser Diode Anode (with Polarity Cathode Grounded - CG)
9
Voltage Measurement Laser Diode Anodec
LDC200Cシリーズ、フォトダイオードカソードPRO8シリーズ: フォトダイオード接地、カソードまたはアノード(設定可能)
LDC200Cシリーズ、フォトダイオードアノードPRO8シリーズ: フォトダイオード入力、カソードまたはアノード(設定可能
LDC200Cシリーズ: N.C.

Calibration Service Item #
Compatible Drivers
CAL-LDC2
LDC200CV,
LDC201CU,
LDC202C,
LDC205C,
LDC210C,
LDC220C,
LDC240C
Thorlabs offers a recalibration services for our LDC200C Series Laser Diode Drivers. To ensure accurate measurements, we recommend recalibrating the devices every 24 months.
The table to the right lists the drivers for which the CAL-LDC2 recalibration service is available. Please enter the Part # and Serial # of the laser diode driver that requires recalibration prior to selecting Add to Cart.
Please Note: To ensure your item being returned for calibration is routed appropriately once it arrives at our facility, please do not ship it prior to being provided an RMA Number and return instructions by a member of our team.