PRO8半導体レーザーコントローラーモジュール
Ultra-Stable Current Control
Extensive Laser Diode Protection
External Modulation of Laser Output
LDC8080
Module
LDC8040
Module
LDC8040 & TED8040 Modules
Inside a PRO800 Chassis

Please Wait
Key Specificationsa
Item #
Max Laser Diode Current
Module Width
LDC8001
±100 mA
1 Slot
LDC8002
±200 mA
LDC8005
±500 mA
LDC8010
±1 A
LDC8020
±2 A
LDC8040
±4 A
LDC8080
±8 A
2 Slots
当社のPRO8シリーズシャーシは複数のPRO8シリーズモジュールに対応可能で、カスタム仕様の通信装置が構成できます。
ご希望の波長に対応した製品については当社にご相談ください。
特長
電流範囲: 0~±100 mA、±200 mA、±500 mA、 ±1 A、 ±2 A、±4 A、±8 A
アノード接地(AG)およびカソード接地(CG) 極性をサポート
定電流(CC)および定光出力(CP)動作をサポート
DCから200 kHzまでの3 dBアナログ変調帯域
16ビット設定の分解能
レーザを保護
はじめに
PRO8プラットフォーム向けの当社の半導体レーザーコントローラーモジュールは、低電流ノイズと低ドリフトで、レーザの安定性に優れています。PRO8シリーズシャーシにこちらのモジュールを予め取り付けてご提供することも可能です。ご注文前に当社までご連絡ください。
7種類の電流範囲
最大出力電流が100 mA ~8 Aの7種類の電流コントローラーモジュールからお選びいただけます。駆動電流は16ビットの分解能(1/65,000)で精密に設定できます。全てのLDC8000モジュールは、定電流(CC)または定格パワー(CP)モードのどちらかで動作可能です。

使い易い制御性
PRO8の表示メニューによって、シャーシ内のあらゆるモジュールを簡単に設定できます。簡略表示記号により、あらゆる操作パラメータへ簡単にアクセスできます。全ての設定はメモリに保存され、モジュールが違うスロットに移動しない限りメインフレームの電源を入れると自動的に再設定されます。

内蔵半導体レーザ保護機能
LDC8000シリーズの電流制御モジュールには、デリケートな半導体レーザを保護するためのレーザ保護機能が組み込まれています。 電流リミット、ソフトスタート、割り込み保護機能に加えて、高度な回路設計により、半導体レーザーはACパワーのインライン型トランジェントやパワー出力、RFピックアップによって影響を受けません。

それぞれの電流モジュールには、レーザを保護する3つの別々のリミットが設定されています。リミットの2つはプログラムが可能で、レーザ電流とレーザ出力がユーザ定義の最大値を超えるのを防ぎます。3番目のリミットはフロントパネルの凹型トリムポットを介して設定されます。トリムポットは「ハードウェア」電流リミットを定義してプログラミングのエラーやノブの誤調整を防ぎます。レーザ電流を外部で変調しても、ハードリミットやソフトリミットを越えることはできません。半導体レーザを始動すると、ソフトスタート機能により、レーザはオーバーシュートやスパイクを生じずにレーザ電流を滑らかに上昇させます。

AC電源が切断されても、レーザに過渡電流は流れません。AC ラインの電圧ピークは、電気フィルタ、変換器のシールド、モジュールやシャーシの接地により効率的に抑制されます。LDC8000シリーズは、レーザ保護に関する国際要求定義(例:CDRH US21 CFR 1040.10やIEC 60825-1)を満たしています。PRO8システムにはキー操作パワースイッチとインターロックが含まれています。
当社ではこれらのモジュールを24か月ごとに校正することをお勧めしております。当社では再校正サービスを提供しております。当社までお問い合わせください。
電流コントローラLDC8001、LDC8002、LDC8005、LDC8010、LDC8020、LDC8040 を当社の TEC マウントに接続するには、CAB400ケーブル(長さ1.5 m)が必要となります。 注: 当社ではLDC8080に対応するケーブルは販売していません。
詳細は当社までお問い合わせください。
Item #
LDC8001
LDC8002
LDC8005
LDC8010
LDC8020
LDC8040
LDC8080
Current Control
Control Range (Continuous)
0 to ±0.100 A
0 to ±0.200 A
0 to ±0.500 A
0 to ±1 A
0 to ±2 A
0 to ±4 A
0 to ±8 Ac
Compliance Voltage
>2.5 V
>5 V
>5 V
>5 V
>5 V
>5 V
>5 V
Setting Resolution
1.5 µA
3 µA
7.5 µA
15 µA
30 µA
70 µA
130 µA
Setting Accuracy (Full Scale)
±0.05%
±0.05%
±0.05%
±0.1%
±0.1%
±0.1%
±0.3%
Noise Without Ripple
(10 Hz To 10 MHz, RMS, Typical)
<1 µA
<3 µA
<5 µA
<10 µA
<20 µA
<50 µA
<100 µA
Ripple (50/60 Hz, RMS, Typical)
<0.8 µA
<1 µA
<1 µA
<1.5 µA
<3 µA
<4 µA
<8 µA
Transients (Processor, Typical)
<10 µA
<15 µA
<30 µA
<50 µA
<80 µA
<120 µA
<200 µA
Transients (Other, Typical)
<0.100 mA
<0.200 mA
<0.500 mA
<1 mA
<2 mA
<4 mA
<8 mA
Drift 60 Min / 24 Hour
(Typical, 0 - 10 Hz, at Constant Ambient Temp.)
<0.5 µA/ <1.5 µA
<0.5 µA / <1.5 µA
<2 µA / <4 µA
<5 µA / <20 µA
<15 µA / <100 µA
<25 µA / <150 µA
<100 µA / <200 µA
Temperature Coefficient
<50 ppm/°C
Power Control
Control Range of Photo Current
10 µA to 5 mA (Other Ranges Available upon Request)
Reverse Bias Voltage
0 / 5 V (Switchable)
Resolution
100 nA
Accuracy (Full Scale)
± 0.05%
Current Limit
Setting Range (20-Turn Trim-Pot)
0 to ≥0.100 A
0 to ≥0.200 A
0 to ≥0.500 A
0 to ≥1 A
0 to ≥2 A
0 to ≥4 A
0 to ≥8 A
Resolution
3 µA
6 µA
15 µA
30 µA
60 µA
130 µA
250 µA
Accuracy
±0.100 mA
±0.200 mA
±0.500 mA
±2 mA
±4 mA
±8 mA
±50 mA
Power Limit
Photo Current Range
0 to 5 mA
Resolution
1.25 µA
Accuracy
±50 µA
Laser Voltage Measurement
Measurement Principle
4-Wire (Improves Accuracy by Compensating for Cable Resistance)
Measurement Range
0 to 5 V
Resolution
0.2 mV
Accuracy
±5 mV
Analog Modulation Input
Input Resistance
10 kΩ
3dB-Bandwidth, CCa
DC to 2.5 kHz
DC to 200 kHz
DC to 100 kHz
DC to 50 kHz
DC to 30 kHz
DC to 20 kHz
DC to 10 kHz
Modulation Coefficient, CC
10 mA/V ± 5%
20 mA/V ± 5%
50 mA/V ± 5%
100 mA/V ± 5%
200 mA/V ± 5%
400 mA/V ± 5%
800 mA/V ± 5%
Modulation Coefficient, CP
0.5 mA/V ± 5%
Rise & Fall Time, (Typical)b
<100 µs
<2 µs
<4 µs
<5 µs
<6 µs
<9 µs
<15 µs
Connector Type
BNC
General Data
Module Width
1 PRO8 Slot
2 Slots
Laser Diode Connector
9-pin D-Sub (f )
15-pin HDD-Sub (f )
Weight
<300 g
<500 g
<750 g
Operating Temperature
0 to 40 °C
Storage Temperature
-40 to +70 °C
小信号帯域幅
外部TTL変調同期
10 Aも対応可能です。お問い合わせください。
---
LDC8001-40のピン配置

Dタイプメス型 DB9ピンコネクタ
Pin
Connection
1
Output for Interlock and Status LASER ON/OFF
2
Monitor Diode Ground
3
Laser Diode Ground
4
Monitor Diode Input
5
Pin 1 Ground
6
Laser Diode Cathode
(Measurement Input for Laser Diode Voltage)
7
Laser Diode Cathode (with Polarity AG)
8
Laser Diode Anode (with Polarity CG)
9
Laser Diode Anode
(Measurement Input for Laser Diode Voltage)
LDC8080のピン配置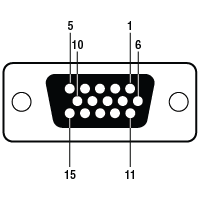 Dタイプメス型 HD15ピンコネクタ
| Pin | Connection |
| --- | --- |
| 1 | Laser Diode Cathode (with Polarity AG)* |
| 2 | Laser Diode Cathode (with Polarity AG)* |
| 3 | Laser Diode Ground* |
| 4 | Laser Diode Anode (with Polarity CG)* |
| 5 | Laser Diode Anode (with Polarity CG)* |
| 6 | Output for Interlock and Status LASER ON/OFF |
| 7 | Laser Diode Cathode (with Polarity AG)* |
| 8 | Laser Diode Ground* |
| 9 | Laser Diode Ground* |
| 10 | Laser Diode Anode (with Polarity CG)* |
| 11 | Laser Diode Cathode (Measurement Input for LD Voltage) |
| 12 | Monitor Diode Ground |
| 13 | Monitor Diode Input |
| 14 | Laser Diode Anode (Measurement Input for LD Voltage) |
| 15 | Ground for Pin 6 |
LDC8001-40 ピン配列

Dタイプメス型 DB9ピンコネクタ
Pin
Connection
1
Output for Interlock and Status LASER ON/OFF
2
Monitor Diode Ground
3
Laser Diode Ground
4
Monitor Diode Input
5
Pin 1 Ground
6
Laser Diode Cathode
(Measurement Input for Laser Diode Voltage)
7
Laser Diode Cathode (with Polarity AG)
8
Laser Diode Anode (with Polarity CG)
9
Laser Diode Anode
(Measurement Input for Laser Diode Voltage)
外部変調
LDC8080 ピン配列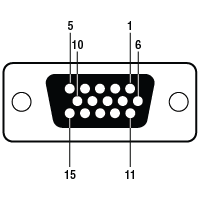 Dタイプメス型 HD15ピンコネクタ
| Pin | Connection |
| --- | --- |
| 1 | Laser Diode Cathode (with Polarity AG)* |
| 2 | Laser Diode Cathode (with Polarity AG)* |
| 3 | Laser Diode Ground* |
| 4 | Laser Diode Anode (with Polarity CG)* |
| 5 | Laser Diode Anode (with Polarity CG)* |
| 6 | Output for Interlock and Status LASER ON/OFF |
| 7 | Laser Diode Cathode (with Polarity AG)* |
| 8 | Laser Diode Ground* |
| 9 | Laser Diode Ground* |
| 10 | Laser Diode Anode (with Polarity CG)* |
| 11 | Laser Diode Cathode (Measurement Input for LD Voltage) |
| 12 | Monitor Diode Ground |
| 13 | Monitor Diode Input |
| 14 | Laser Diode Anode (Measurement Input for LD Voltage) |
| 15 | Ground for Pin 6 |
LDC8000シリーズの電流コントローラには次のパーツが付属します。
LDC8000シリーズの電流コントローラーモジュール
操作マニュアル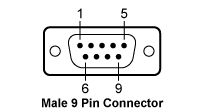 CAB400 (9 Pin Male) Cable
Pin #
Description
1
Interlock and Status LASER ON/OFF
2
Photodiodea
3
Laser Diode Ground
4
Photodiodeb
5
Ground for Pin 1
6
Voltage Measurement Laser Diode Cathodec
7
Laser Diode Cathode (with Polarity Anode Grounded - AG)
8
Laser Diode Anode (with Polarity Cathode Grounded - CG)
9
Voltage Measurement Laser Diode Anodec
LDC200Cシリーズ、フォトダイオードカソードPRO8シリーズ: フォトダイオード接地、カソードまたはアノード(設定可能)
LDC200Cシリーズ、フォトダイオードアノードPRO8シリーズ: フォトダイオード入力、カソードまたはアノード(設定可能
LDC200Cシリーズ: N.C.

Calibration Service Item #
Compatible Modules
CAL-LDC8
LDC8001,
LDC8002,
LDC8005,
LDC8010,
LDC8020,
LDC8040,
LDC8080
Thorlabs offers a recalibration service for the LDC8000 Series Laser Diode Current Control Modules. To ensure accurate measurements, we recommend recalibrating the devices every 24 months.
The table to the right lists the modules for which the CAL-LDC8 recalibration service is available. Please enter the Part # and Serial # of the laser diode driver that requires recalibration prior to selecting Add to Cart.
Please Note: To ensure your item being returned for calibration is routed appropriately once it arrives at our facility, please do not ship it prior to being provided an RMA Number and return instructions by a member of our team.