FiberBench偏光コントローラーキット
Deterministic Polarization Control
Mechanically and Thermally Stable
360° Rotation and Precise Control
PC-FFB-1550
Polarization Controller Kit for 1100 - 1620 nm
PC-FFB-780
Polarization Controller Kit for 700 - 1050 nm

Please Wait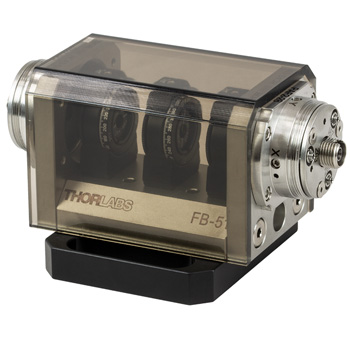 Click to Enlarge

PC-FFB-780とPC-FFB-1550にはダストカバ-が含まれます。上図はダストカバーを付けたPC-FFB-780です。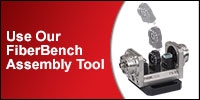 特長
動作波長範囲:700~1050 nmまたは1100~1620 nm
FC/PCおよびFC/APCコネクタの両方に対応
決定論的偏光制御により任意の偏光状態を変化させることが可能
360° 回転による高精度の偏光制御で機械的特性および温度特性が安定
カスタム波長ならびにカスタムアライメントキットについては当社までご連絡ください。
当社のFiberBench偏光コントローラーキットによって、任意の入力偏光状態を任意の出力偏光状態に変換することができます。このコントローラでは、1軸FiberBenchにウォールプレートHCA3を用いて取り付けられた2つのFiberPortが使われています。入力側の偏光状態は、2つのFiberPort間に1/4波長板-1/2波長板-1/4波長板の順に並べられた波長板を回転させることで、任意の偏光状態に制御することが可能です。各プレートは、精密に360°連続回転させることができます。
従来型のパドル式コントローラに対する利点
このFiberBench偏光コントローラはパドル式コントローラと同じ機能を有していますが、より決定論的で安定した偏光の操作が可能です。このコントローラはヒステリシスがないため、入力側の偏光状態(SOP)が決まれば、コントローラの出力側のSOPが予測できます。偏光計がないと、パドルコントローラからの出力のSOPを直接的に知ることはできません。従来型のパドル式コントローラと異なり、 FiberBench偏光コントローラは、PMまたはSMファイバとお使いいただけ、スプライシングの必要がありません。また、FiberBenchシリーズの設計は、熱的および機械的安定性に優れているという利点も備えています。360°連続回転と精密な調整機能により、パドル式コントローラよりも優れた制御が可能で、より安定したプラットフォームとなり得ます。

Smart Pack
Reduce Weight of Packaging
Increase Usage of Recyclable Materials
Improve Packing Integrity
Decrease Shipping Costs
Thorlabs' Smart Pack Initiative is aimed at minimizing waste while providing adequate protection for our products. By eliminating any unnecessary packaging, implementing design changes, and utilizing eco-friendly materials, this initiative seeks to reduce the environmental impact of our product packaging.
The updated PC-FFB-780 and PC-FFB-1550 packaging primarily consists of recycled paper and cardboard and weighs 7.51% less than the original packaging. This weight change results in a 0.34 kg reduction in travel-based CO2 emissions per year, based on typical product sales.
As we move through our product line, we will indicate re-engineered, eco-friendly packaging with our Smart Pack logo, which can be seen above.