グリッド型歪みテストターゲット
Test Targets Help Identify Distortion in Imaging Systems
Grid Spacings Available from 10 µm to 2000 µm
Combined Resolution and Distortion Targets Available
R1L3S5P
Combined Resolution and
Distortion Test Target
R1L3S3PR
Positive Reflective Grid
Distortion Target
R2L2S3P4
Fixed Frequency Grid
Distortion Target
R1L1S1N
Combined Resolution and
Distortion Test Target

Please Wait
General Specifications
Chrome Thickness
0.120 µm
Substrate Thickness
0.06" (1.5 mm)
Surface Flatness
≤15 µm
Substrate
Sode Lime Glass

Click to Enlarge
An R1L3S5P Combined Resolution and Distortion Test Target Mounted in an
XYF1
Test Target Positioner
Features
Fixed and Multi-Frequency Grid Distortion Test Targets
High-Contrast Positive Reflective Target Available
Combined Resolution and Distortion Test Targets
Distortion in Grid Image Allows for Image Correction
Grids Available with Spacings of 10 µm to 2000 µm
Thorlabs offers a variety of options for measuring the distortion of an optical system including targets with a single-frequency grid, multi-frequency grids, or distortion grids alongside a wide variety of other patterns for resolution measurement, calibration, and more. Combined, these targets offer grid spacings ranging from 10 µm to 2000 µm.
We offer positive targets made made by plating vacuum-sputtered chrome on a soda lime glass substrate in patterns of either horizontal and vertical lines or rows and columns of solid circles. We also offer a positive reflective version of the multi-frequency target and a negative version of the 18 mm x 18 mm combined resolution and distortion target. See the Graphs tab for spectral data of the materials used in these distortion targets.
Each pattern is manufactured using photolithography, allowing for edge features to be resolved down to approximately 1 µm. Because the lines or rows and columns are perpendicular, they will be imaged as such by an ideal system. A distorted image will show the lines or rows and columns as bowed; this image allows the user to quantify the distortion and thus to correct for it using software built into programs such as LabVIEW or ImageJ.
Mounting
These distortion test targets can be mounted in one of four of our microscopy slide holders. Our MAX3SLH fixed slide holder provides two spring clips to mount the optic and can be mounted to any of our 3-axis translation stages; this slide holder is only compatible with test targets greater than or equal to 2" wide and provides a clear aperture of 1", which may cover the chrome pattern on some of the test targets. Thorlabs also offers our XYF1(/M) test target positioning mount (see photo to the right), which is capable of translating a 1" (25.4) to 3" (76.2 mm) wide rectangular target over a 50 mm (1.97") x 30 mm (1.18") area. The mount offers five 8-32 (M4) taps for six post-mountable orientations. The XYF1 uses nylon-tipped setscrews to secure the optic. Please note that the mount's support arms overlap the optic by 4.4 mm on each side. For users of the MLS203 microscopy stage, we offer the MLS203P2 slide holder for inverted microscopes, which can mount slides that measure 25 mm to 26.5 mm in width and petri dishes that measure 30 mm to 60 mm in diameter.

Click to Enlarge
Soda Lime Glass Transmission

Click to Enlarge
Spectral Curves of Reflective Test Targets
The large difference between the uncoated (blue line) and AR-coated chrome (red line) in the visible region means that the positive reflective targets have high contrast between the pattern and the background.
Questions?
Need a Quote?
ご質問やお見積りのご要望は
お気軽に当社まで
ご連絡ください。

Customization Parameters
Substrate Sizea
Min
8 mm x 8 mm (5/16" x 5/16")
Max
85 mm x 85 mm (3.35" x 3.35")
Substrate Materials
Soda Lime Glass
UV Fused Silica
Quartz
Coating Material
Reflective or Antireflective Chrome
Coating Optical Density
> 3b or > 6c @ 430 nm
Minimum Pinhole/Spot
Ø1 µm
Minimum Line Width
1 µm
Line Width Tolerance
-0.25 / +0.50 µm
Maximum Line Density
250 lines/mm
基板はご要望のサイズや形状にダイシングが可能です(上記MIN~MAXの範囲内)。
UV溶融石英(UVFS)基板と標準的なソーダ石灰ガラス基板の光学濃度(OD)は430 nmで3以上
石英基板と一部のソーダ石灰ガラス基板の光学濃度(OD)は430 nmで6以上
カスタムおよび組み込み用途(OEM用途)向けテストターゲットとレチクル
当社のフォトリソグラフィ設計と製造能力により、様々なパターン素子を作ることが可能です。米国サウスカロライナ州コロンビアにある当社の施設では、テストターゲット、グリッド型歪テストターゲット、レチクルを製造しております。 これらは顕微鏡、イメージングシステム、光学アライメントのセットアップなど様々な用途に適用されてきました。
標準品のテストターゲットやレチクルに加え、ソーダ石灰基板、UV溶融石英(UVFS)基板、石英基板から8 mm x 8 mm~85 mm x 85 mmまでのカスタムクロムパターンのテストターゲット等をご提供可能です。基板はご用途に応じた形状に切断可能です。フォトリソグラフィによるコーティングプロセスにより、1 µmまでのクロムパターンが可能です。下ではサンプルパターンがご覧いただけます。またこの下の例のようにポジパターンとネガパターンで作成可能です。
カスタム仕様のテストターゲットやレチクルのお見積りについては、当社までお問い合わせください。
サンプルパターン
用途例
エッチングレチクル
グレースケールマスク
高分解能レチクル
測定用レチクル
レクリエーション用スコープ
ノッチ付きレチクル
アイピース目盛
照明用十字レチクル
オブストラクションターゲット
双眼鏡レチクル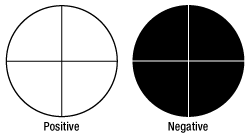 Click to Enlarge
ポジパターンとネガパターンの十字ターゲット
This tab details an optimal cleaning technique developed by our engineers for cleaning reticles, test targets, distortion targets, and calibration targets.
Cleaning Procedure
Use a clean wet sponge, preferably made of polyvinyl alcohol (PVA), and dish detergent to gently scrub the front and back surfaces of your reticle or target.
Rinse with water.
Blow dry with clean dry air, or allow the reticle or target to air dry on a clean surface.
We do not suggest using a towel, rag, or wipe to dry the surface. If contamination persists, soak the reticle or target in a detergent and water solution for 1 hour, repeating as necessary.