See what's new at Thorlabs:
View the full list of new products (below) or browse our entire product range.
All of these items are available now!

Choose

RSS Feed to have this information delivered to you.

1 New Product in the Machine Vision Camera Lenses Family!
«« View All New Products
«« View ByCategory
Thorlabs offers a wide variety of C-mount camera lenses for machine vision, including standard prime (fixed) lenses, zoom lenses, high-magnification zoom lenses for macro applications, modular zoom lens components, and telecentric lenses. These lenses are compatible with all of our CCD and CMOS cameras. We also offer a variety of objective, scan, and tube lenses that can be used to construct optical systems for machine vision applications.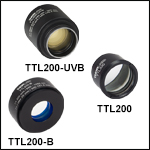 Tube Lenses for Widefield Imaging
(View Product Family)
1 New Product!

TTL200-UVB- Tube Lens, f = 200 mm, ARC: 240 - 360 nm, External M32 x 0.5 and SM1.5 Threads RELEASED: April 20, 2020