See what's new at Thorlabs:
View the full list of new products (below) or browse our entire product range.
All of these items are available now!

Choose

RSS Feed to have this information delivered to you.

5 New Products in the Actuators, Adjusters, & Transducers Family!
«« View All New Products
«« View ByCategory
We offer a wide range of adjustment screws, micrometers, and kinematic positioners, as well as stepper motor, DC servo, high-precision piezo inertia actuators, and voice coil actuators. Additionally, our piezoelectric offerings include modular, screw, and replaceable-tip piezoelectric actuators, as well as Langevin transducers for ultrasonic welding applications. A wide variety of piezoelectric chips and stacks are also available.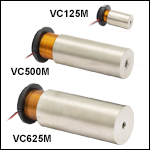 Voice Coil Actuators (View Product Family)
5 New Products!

VC625/M- Voice Coil Actuator, 62.5 mm Travel RELEASED: October 08, 2020


VC500/M- Voice Coil Actuator, 50.0 mm Travel RELEASED: October 08, 2020


VC250/M- Voice Coil Actuator, 25.0 mm Travel RELEASED: October 08, 2020


VC125/M- Voice Coil Actuator, 12.5 mm Travel RELEASED: October 08, 2020


VC063/M- Voice Coil Actuator, 6.3 mm Travel RELEASED: October 08, 2020