See what's new at Thorlabs:
View the full list of new products (below) or browse our entire product range.
All of these items are available now!

Choose

RSS Feed to have this information delivered to you.

2 New Products in the Fiber Fusion Splicers and Processing Equipment Family!
«« View All New Products
«« View ByCategory
Thorlabs' Vytran® product family is designed for fusion splicing, optical fiber processing, and end face geometry inspection. To create splices with high optical quality and mechanical strength, these tools perform a series of tasks, including stripping, cleaning, cleaving, splicing, recoating, and proof testing. The GPX Series Glass Processors can splice fibers or end caps and shape fibers into tapers, ball lenses, couplers/combiners, or other kinds of custom terminations. Our scanning white-light interferometers (SWLI) enable detailed measurements of the connector end face geometry for inspection and quality-control applications.

Use the key below to determine which tools are appropriate for your application.


Carbide Fiber Scribe (View Product Family)
1 New Product!

S90C- Carbide DualScribe Fiber Optic Scribe RELEASED: September 16, 2020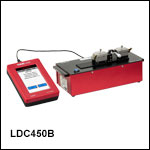 Portable Fiber Cleaver for Ø200 µm to Ø800 µm Cladding Fibers (View Product Family)
1 New Product!

LDC450B- Large-Diameter Fiber Cleaver, Portable, Ø200 µm to Ø800 µm Cladding, Flat Cleaves RELEASED: September 09, 2020