See what's new at Thorlabs:
View the full list of new products (below) or browse our entire product range.
All of these items are available now!

Choose

RSS Feed to have this information delivered to you.

2 New Products in the Scientific Cameras Family!
«« View All New Products
«« View ByCategory
Thorlabs' Scientific-Grade Cameras are specifically designed for microscopy and other demanding applications. The Zelux™ CMOS cameras have small footprints and provide cost-effective solutions for general-purpose imaging applications. Kiralux® cameras have CMOS sensors with high quantum efficiency in a compact housing and are offered in monochrome, color, NIR-enhanced, and polarization-sensitive versions. Our polarization-sensitive CMOS camera is ideal for materials inspection, flaw detection, and other advanced techniques using polarization. The Quantalux® monochrome sCMOS cameras are fast frame rate imagers that combine high dynamic range with extremely low read noise for low-light applications. They are available in either a passively cooled compact housing or a hermetically sealed TE-cooled housing. We also offer scientific CCD cameras with a variety of features, including versions optimized for operation at UV, visible, or NIR wavelengths; fast-frame-rate cameras; TE-cooled or non-cooled housings; and versions with the sensor face plate removed. An intuitive software package, API and SDK for developers, and third-party software support provide options for custom system control and image acquisition.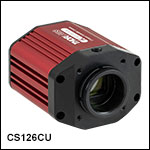 Kiralux 12.3 MP CMOS Compact Scientific Cameras (View Product Family)
2 New Products!

CS126MU- Kiralux 12.3 Megapixel Monochrome CMOS Camera, USB 3.0 Interface RELEASED: September 23, 2020


CS126CU- Kiralux 12.3 Megapixel Color CMOS Camera, USB 3.0 Interface RELEASED: September 23, 2020