See what's new at Thorlabs:
View the full list of new products (below) or browse our entire product range.
All of these items are available now!

Choose

RSS Feed to have this information delivered to you.

2 New Products in the OCT Imaging Systems & Components Family!
«« View All New Products
«« View ByCategory
Thorlabs provides solutions for the field of Optical Coherence Tomography (OCT) imaging on the system, subsystem, and component level. Our drive for innovation is shaping our entire rapidly expanding product line. Complete spectral-domain, swept source, and polarization-sensitive OCT systems are available that are out-of-the-box ready for biological, industrial, and research applications. For customers building or modifying their own system, a line of components that have been tested for use in OCT applications is available. In addition to the growing portfolio of standard OCT systems that we offer, Thorlabs is dedicated to providing OCT solutions to meet specific applications. Please Contact Us to discuss how our OCT technologies can be applied to meet your unique requirements.
Evaluation Board for 400 MHz Balanced Detector (View Product Family)
1 New Product!

PDBEVAL1- Evaluation Board for PDB770C Balanced Detector RELEASED: August 04, 2020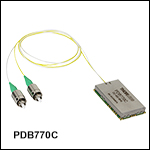 400 MHz Balanced Amplified Photodetector (View Product Family)
1 New Product!

PDB770C- 400 MHz Balanced Amplified Detector, 950 - 1650 nm, FC/APC RELEASED: August 04, 2020